Sectional Piers, Rolling & Floating Docks, Boat Lifts, PWC Lifts, Hydraulic Lifts, Canopies, Vinyl Replacement, AC & DC Motors, Accessories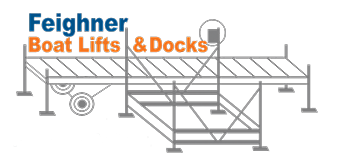 Feighner Boat Lifts and Docks
The Feighner Company is based in Charlotte, MI. In 1990, the Feighner family expanded their business to manufacture docks. Over the next several years, the company customized their docks and boat lifts to the highest standards and supply an excellent warranty for the customer. 
Sectional Docks
Patio Docks
Rolling Docks
Floating Docks
Dock Accessories
Vertical Cable Boat Lifts
Boat Lift Accessories
Bunk Options
Canopies
Hydraulic Lifts
Great Lakes Lift and Dock
Great Lakes Lift & Dock has manufactured the highest quality boat lifts and docks since 1974. Located in Caro, MI, the corporation continues to be on the leading edge of boat lift and dock manufacturing by incorporating innovative materials and engineering.
Port-O-Eze Dock System
Dock Accessories

Hart Fabrication Aluminum Specialist
Hart Fabrication is located in Coldwater, MI. They are focused on providing high quality, attractive and durable products for inland marine recreation markets. Hart specializes in complete dock systems.
Posts, Crossarms, Hardware, Bumpers & Accessories
Located in the heart of the lakes area in Breezy Point, MN, Custom Boat Lift Vinyl offers the largest selection of Vinyls available. Custom sizes, top brands, Superior Quality. 
Price Fighter
Shelte-Rite Premium
Weather Max 8oz. Cloth
Sunbrella
Harbor Time
Many color options available